FreshWater® Ozone

System
Keep your water clean and clear, while reducing the need for chlorine. This system combines the cleaning power of the FreshWater® III high-output ozone generator with MPS non-chlorine oxidizer and silver ions for protection against contaminants..
Benefits :
Continuous cleaning. Ozone and silver ions are released into your spa water continuously.
Easy maintenance. Simply dose the spa water with MPS with each use of the spa and add chlorine weekly.
Reduced levels of chlorine. Enjoy safely sanitized spa water, without the need for a constant chlorine level residual.
---
PRODUCTS INCLUDED WITH THE EVERFRESH SYSTEM
---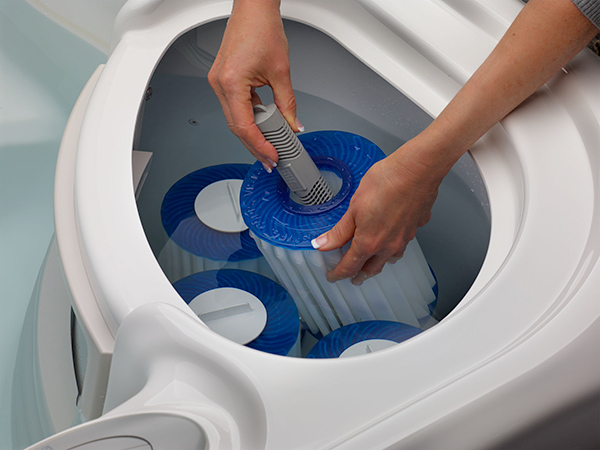 CONTINUOUS SILVER ION (AG+) PURIFIER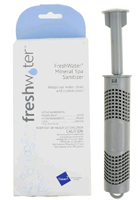 SILVER ION PURIFIER
The FreshWaterAg+ continuous silver ion purifier further reduces the need for chlorine by introducing silver ions into the spa water that inhibit bacterial growth. Insert the cartridge into the filter of your Hot Spring® spa and the silver ions are released automatically — there's no chance of under or over-dosing. Simply replace the cartridge every four months.
MPS®(MONO PER SULFATE)
MPS CHLORINE-FREE OXIDIZER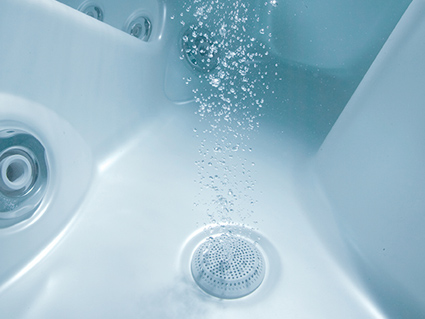 This fast-acting formula refreshes and brightens spa water. When used with the FreshWaterAg+ purifier, the MPS chlorine-free oxidizer helps activate the silver ions so they can do their job quicker and more effectively. Plus it's pH neutral, so it won't alter water chemistry.
---
FRESHWATER III HIGH-OUTPUT OZONE SYSTEM
OZONE SYSTEM
The FreshWater III high output ozone system comes standard on all Hot Spring Highlife® spas, and can be added to any Limelight or Hot Spot spa. An essential part of the EverFresh water care system, it uses Corona Discharge cell technology to generate a high concentration of ozone that works to neutralize contaminants on contact and enhance water quality.
MPSCENTS® OXIDIZER
AROMATHERAPY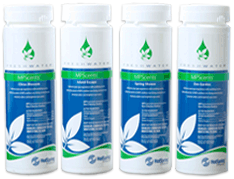 This non-chlorine oxidizer with aromatherapy keeps your water clean and creates an inviting and relaxing spa environment. Choose from four soothing scents — Citrus Blossom, Island Escape, Spring Shower, and Zen Garden.
---
MPS TEST STRIPS
Use these test strips to monitor your spa's MPS, pH, and alkalinity levels when using the MPS chlorine-free oxidizer as part of the EverFresh water care system.