Always Filtered, Always Sparkling
Crystal clear spa water is essential to your spa experience, which is why we put so much thought into developing technologies that help ensure your spa water is always filtered and ready for you.
100% NO-BYPASS FILTRATION

All the water in your Highlife® Collection spa is filtered all the time. In other spas, water bypasses the filters when the jets are on – which is when you need filtered water the most. Our Highlife Collection spas include up to five filters enabling all the water to pass through the filters, even when the jets are running. Highlife Collection spas are the only spas with 100% no-bypass filtration.
TRI-X® FILTERS

Tri-X filters use exclusive three-dimensional technology to filter significantly more water than standard paper filters – which makes them an important part of our 100% no-bypass filtration system. Plus, they are longer- lasting, and dishwasher-safe for added convenience. Optional on Prodigy® and Jetsetter® models.
---
HOT TUB WATER CARE SYSTEMS
Spend more time relaxing with peace of mind knowing that your spa water is clean, fresh and ready for you to enjoy. HotSpring offers two easy-to-use water care systems to choose from, and a complete line of customized water care products to meet all your ownership needs.
---
RM-SPAS CAN HELP YOU CHOOSE THE WATER CARE SYSTEM THAT WILL WORK BEST FOR YOU AND YOUR LIFESYLE.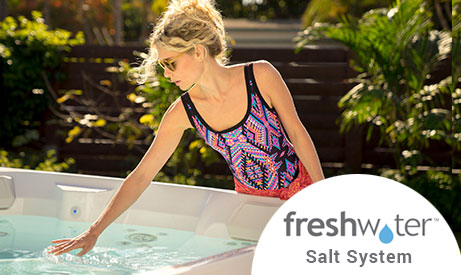 Freshwater™ Salt System
Available on all Highlife® and Limelight® Collection spas, this easy-to-use salt water system eliminates the worry of keeping spa water clean, clear and sanitized for a full year. With just a little salt in your spa water, the system generates chlorine automatically so you'll spend less time measuring and adding chemicals. This unique system makes spa ownership easier than ever by removing the guesswork and hassle of water care maintenance.
---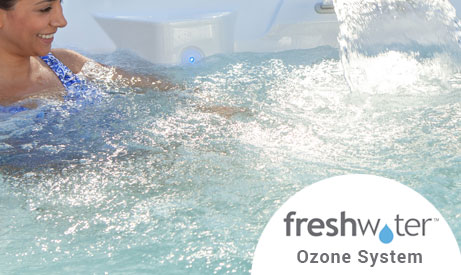 Freshwater® Ozone System
Keep your water clean and clear, while reducing the need for chlorine. This system combines the cleaning power of the FreshWater® III high-output ozone generator with MPS non-chlorine oxidizer and silver ions for protection against contaminants.
---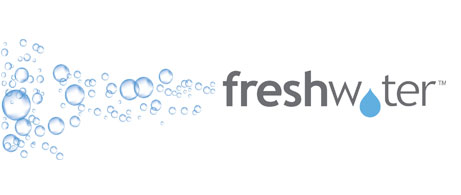 Spa Care Products
Your HotSpring dealer can provide you with genuine HotSpring maintenance and replacement products that will help you get the most out of your spa – including replacement filters and innovations like the Vanishing Act and CleanScreen pre-filters.